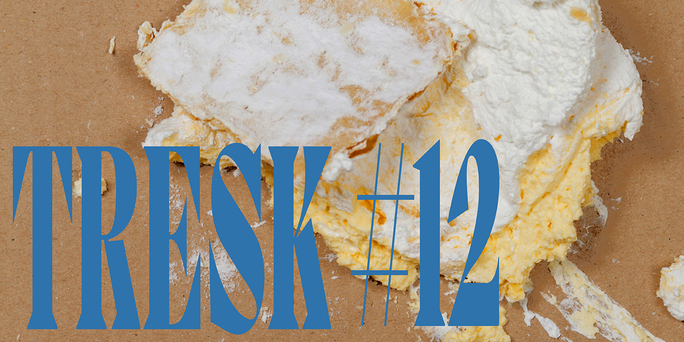 TRESK is an annual festival of music and music publishing of Radio Študent that brings together regional and various European independent labels, distributors and artists. With a wide range of events – the traditional Tresk music market, contests for music-related visual design, workshops and concerts – it puts the spotlight on the lively alternative music scene and provides a networking platform for musicians, visual artists, labels, distributors, organizers, the media and, last but not least, listeners and fans.
Thursday 16.9.
If you are a creator or publisher, sooner or later you will face the problem of how to issue an invoice. You may also encounter rights issues with your product. Your friend with SP is probably already tired of you tugging on his sleeve, and at the same time you do not (yet) meet the conditions for applying for self-employment in culture. At the workshop, you will be able to learn more about the structure of institutes and societies. You will learn how to write a memorandum of association and learn about all the advantages and disadvantages of being a legal entity in the field of music. The workshop will be led by Aleksej Jankovič.
About the lecturer: Aleksej is a law graduate of the Faculty of Law of the University of Ljubljana. Shortly after starting his studies, he became interested in intellectual property law, and not long after that he also developed a deep passion for music, so that the giant slalom between legal rules of one kind and another turned into a slalom between legal content on one and domestic and international DJ gigs on the other hand. However, since "making a difference between people" (read: releasing music) and the related rights are regulated by a whole bunch of different rules and options today, the meandering between law and music inevitably becomes part of the everyday life of virtually every producer. So what are the options?
17.9.
Full virtual discursive programme
First part - Where to create? About the availability of production facilities
The central topic of the round table will be the issue of accessibility of creative spaces, tutorials and salaries for bands. The current situation will be discussed, and potential solutions for the future will be sought through dialogue. The guests are Inga Remeta, Renata Zamida, Uroš Veber, Gregor Karer, Alen Ožbolt and Mateja Demšič. Moderated by Miha Artnak.
 
Miha Artnak is a Slovenian artist, designer and entrepreneur. He is the co-founder of the ZEK collective, the design studio Ljudje and Pop-up dom. He is best known for his unique style and approach to design and his fake news art project. He graduated from the Academy of Fine Arts and Design in Ljubljana.
 
Uroš Veber, vice-president of the association Asociacija, which unites non-governmental organizations and self-employed persons in the field of culture and art. As part of the Institute, Projekt Atol works mainly in the field of artistic projects in which critical views are intertwined with new technologies. He is also active in the field of music, as he co-runs the rx:tx label.
 
Gregor Karer is the owner and director of the GIG Agency. This traditionally deals with music management and event organization, but also with communications and digital marketing. On Celovška cesta 111 B, next to Kina Šiška, it has a music house, which also operates some music schools, and their vision is that in the future, within the agency, they will conduct various educational workshops related to the music industry. The second phase of the project (approx. 200 square meters of premises) has been completed, and the remaining premises (approx. 3 new training rooms and musical equipment service) will be completed by the end of the year.
 
Alen Ožbolt studied at art academies in Ljubljana and Zagreb, and later as a guest artist at the San Francisco Art Institute. He realized and set up 57 solo and 63 group exhibitions. For his work, he received recognition of important works of art and an award from the Prešeren Fund. He has published several self-authored 'visual essays' and shorter articles, as well as some longer theoretical texts about art, artistic spaces and phenomena (art catalogs, Mladina magazine, Rival, Eseji, Problemi, M'Ars, Maska, Likovne besde, Platforma SCCA, Sobotna prilagka Works).
Mateja Demšič - Head of the Culture Department of the MOL
Renata Zamida - Acting Director Director Center Rog
Second part - The importance of grasroot venues for music creation
The lecture will discuss the cultural significance of spontaneous venues and autonomous zones and their impact on the regional and wider field of creation. Rajko Muršič will lecture.
Rajko Muršič is a full professor at the Department of Ethnology and Cultural Anthropology, Faculty of Arts, University of Ljubljana. He is the author of the monographs Unspeakable sound games: from philosophy to the anthropology of music (1993); Center for Dehumanization: An Ethnological Profile of a Rock Band (1995); Lawns of Your and Our Youth: A Youth and Rock Club Story (2000); On Solid Ground: A Shameless Review of Spontaneous Venues and a Reconsideration of Youth Field Non-Governance (2012); Music glossary for young people (2017). He teaches basic methodological and orientation courses, and his professional interests include the anthropology of (popular) music, sensory anthropology and cultural theories.
Third part - Collectives to help - European collective organizations during the epidemic
At this round table, we will deal with the issue of assistance to creators by organizations for the collective management of copyright and related rights. In 2020/2021, the European collectives GEMA, SIAE and SACEM established funds for financial assistance to their creators. In a conversation with artists from France, Italy and Germany, different models introduced in individual countries and the practice of distributing funds will be highlighted. The guests are Ginevra Nervi (IT), Timothée Quost (FR) and Chris Eckman (US/DE/SI). Moderated by Žiga Drofenik.
 
Ginevra Nervi (IT) is a composer and producer of electronic music from Genoa. Her research in electronic music is based on the use of various techniques of manipulating the sound of the voice. This year it was nominated for the Davide Di Donatello Award for Best Original Song. She is the author of many soundtracks for Italian films and serials.
 
Chris Eckman (US/DE/SI) is a musician, producer, film score composer and co-founder of Glitterbeat Records. Among others, he is a member of the band The Walkabouts, and he has also collaborated with creators such as Brian Eno, Peter Buck and Warren Ellis.
 
Timothée Quost (FR) is an improviser, composer and trumpeter. At first he studied classical music, and later jazz and graduated from the Conservatoire in Paris. He is currently involved in several projects such as Seul, Lik∑n, Psalram and Horns.
 
Žiga Drofenik is the co-founder of the music agency SonicTribe and has been representing the Universal Music Publishing Group in Slovenia for 10 years. On a daily basis, he deals with music publishing, copyrights, commercial and film soundtracks, band management, music PR and concert promotion.