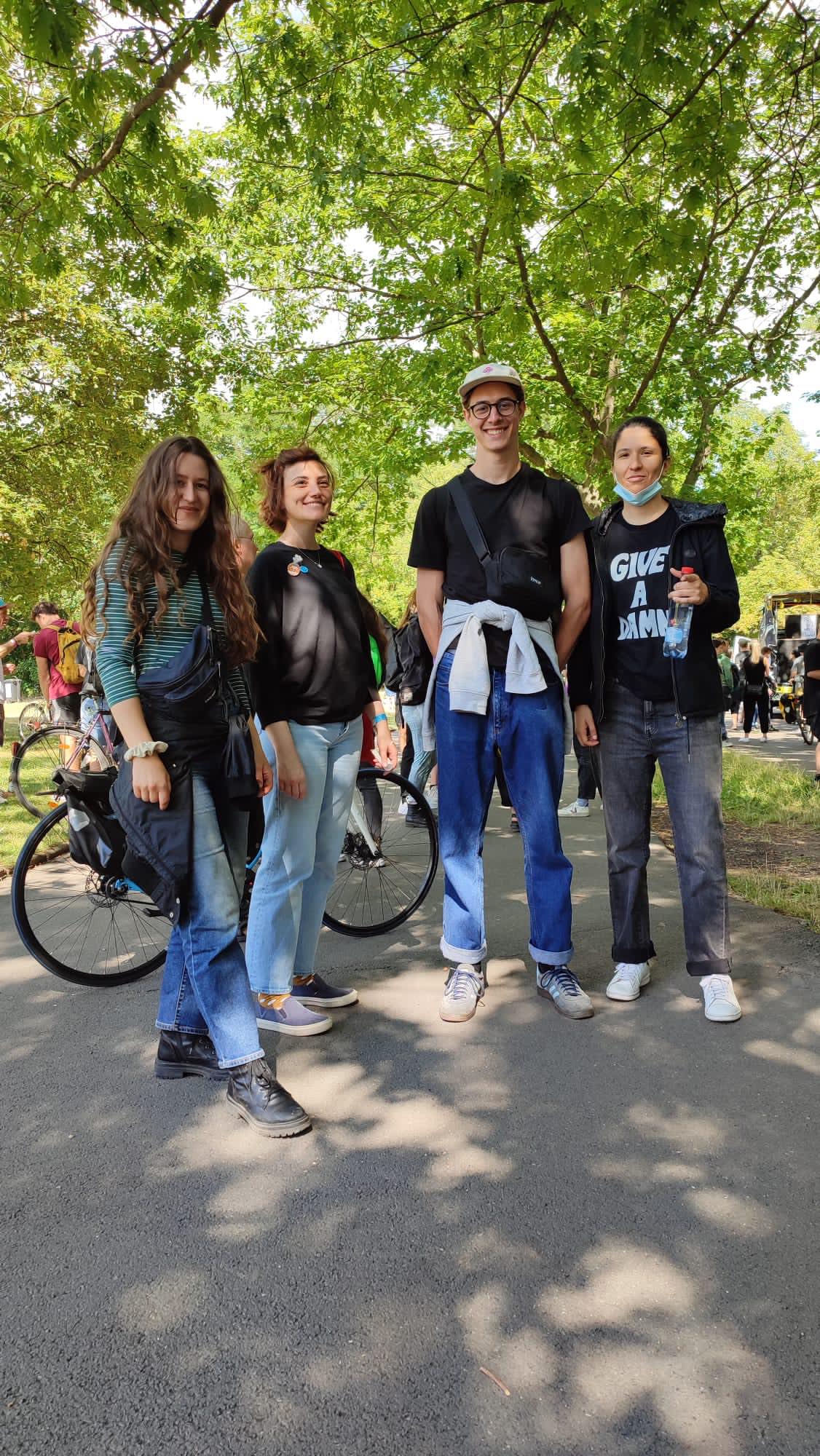 Report from Radio Corax's birtday bash, music festival celebration in Halle (Salle), Germany from Salome for Radio Campus, Cecilia for Radio Popolare and Urban for Radio Študent.
Radio Corax celebrated its birthday with a music festival that relies upon strong focus on socially critical music such as punk and rock, but this year also branched into hiphop, electronic music and other genres.
Salome reports for Radio Campus
+
Thematic podcast - Mila Stern
---
Urban reports for Radio Študent
A quick overview of the radio and festival Corax from the city, similar in size to Ljubljana, Halle (Saale) in Germany. 
+
Thematic podcast - Amelie Nilles
Thematic podcast - Mila Stern
---
Cecilia reports for Radio Popolare
The independent music festival Corax22Jahr held in Halle, Germany, was an opportunity to get to know Luise, editor in chief and founder of Radio Corax's music board, as the radio before the Indie-Re project only had a news board and shows. We've also met with Amira, one of the organisers of the festival who explained the organisational aspect of it, but when night fell, the venue Hunermanhattan, a former abandoned firm, became our cultural meeting place. There, Östro 430, Britneys Fears, Rob D. Pierre, Milano Shanghai, Mila Stern, balans and Amélie Nilles were playing, all bands also showcased in the reportage, next to a segment about a parade in the streets of Halle, in defense of the local musicians and music scene. 
+
Thematic podcast - Cecilia talks with the band Britney's Fears about Radio Corax's structure and event organization, being a woman in the local music scene and feminism.
---
Radio panel discussion at Radio Corax with partner radios's journalists
Luise Grundmann from Radio Corax hosts Urban (Radio Študent), Melisa (Radio Campus Tours), Cecilia (Radio Popolare) and talks with them about their development as journalists and highlights from the radio stations in question. 
--
Radio Corax Expert talk Artists Perspectives on Corona vs Music Culture
We have a look at how artists and self-employed people have fared in the last two years of the Corona pandemic. How has the pandemic and the measures affected their art and work? Measures, such as the lockdowns, resulted in cultural houses and venues being closed. Opportunities to perform were lost and, in some cases, also the possibility for bands to rehearse and produce together. Where does music culture stand two years after the pandemic? We have discussed this question with our experts:
Amélie Nilles, sound artist, composer and DJ based in Paris in France, playing at the corax-festival
Piergiorgio Pardo, Lecturer, journalist, author, musician, creator and host of radio program at Radio Popolare in Milano in Italy
Andrej Pervanje, music journalist, radio host and head of the abundant music library at Radio Študent Ljubljana in Slovenia, playing bass in the art-punk band balans, also playing at the corax-festival
local guests:
Mila Stern, DJ & Resident at the Halle based club "Station Endlos"
Jan Batzer, booker at Connie Island culture and concert venue in Leipzig-Connewitz, Co-Founder of the Mach Festival in Halle
Christian Feist, Booker of 'Ilses Erika', a dance cafe and concert venue in Leipzig, member of the band 'Widerstand der Dinge"
First part
Second part
+
Nina Eba: About war, flight, arriving in Berlin and lots of music
For the first Indiere-Lecuture, Radio Corax invited the Ukrainian artist Nina Eba three weeks before the festival to talk to her on the radio and outside in front of the audience at the Herr Fleischer Radio Kiosk about the electronic music scene in Kiev and the Russian war of aggression on Ukraine. Nina Eba is a sound artist who moves between experimentalism and broken eclecticism. She produces sound collages that don't let you rest. When Russia attacked Ukraine, she fled to Poland and then to Berlin, where she has been living for the last months. We talked to her about her musical socialisation, the electronic music scene in Kiev and her flight from Ukraine and the difficult arrival in Germany. After the lecture, Nina Eba played live on the radio and in front of an audience in the outdoor studio of Radio Corax at the Herr Fleischer Kiosk.
+
A political discussion about open spaces for music events in Halle and a rave through the city called "Klangkarawane"
In Germany, socio-cultural and music-cultural projects and locations are often called "open spaces", and the name says it all: they are spaces in which all those who want to participate can decide together on the design and for what the space should be used. For many people, socio-cultural and music-cultural projects are a very essential part of what makes life in cities worth living. But how long can this non-commercial open space culture be kept alive when rents rise and spaces become unaffordable? In Halle, too, non-commercial projects are being squeezed out. Venues have to move to the outskirts of the city, the fight for rehearsal spaces is getting tougher. How do the projects and their organisers deal with this? That was the question we asked in our second Indiere Lecture on the occasion of the Corax Festival. For the Lecture talk we invited actors from music projekts and cultural project from Halle to our outdoor studio at the Herr Fleischer Radio Kiosk:
Jonas from the former housing project "Schiefes Haus" in Breite Straße in Halle, also musician, label operator and concert promoter
Jenni from Blendwerk e. V., a cultural association that provides spaces for cultural actors Nadja & Laura from IG Musikveranstaltende, an association of individuals and crews
from Halle's music culture and music scene Paul from Freiimfelde e.V.
Afterwards, Radio Corax and the IG Musikveranstaltende Halle invited to the "Klangkarawane", a political music demonstration that went through the city as a rave and highlighted the need for non-commercial free spaces for music and culture at rallies. In the uploaded lecture we have edited a short version of the three-hour public music demonstration which took place on 9th of july during the Corax Festival.