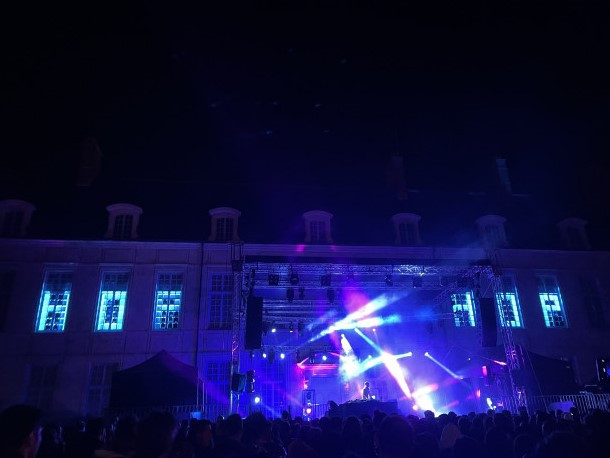 Marko reports for Radio Študent
 The residency was hosted by Radio Campus Orléans, one of the radio stations of the Radio Campus network. The network itself was founded in 1996 and is shared by over 20 different radio stations all over France. Hop Pop Hop is a festival organized by the Radio Campus network and Astrolabe in the city of Orléans. This year's edition was its seventh iteration, held on the 16th and 17th of September. It lasted for mere two days, held at four venues, and hosted more than 50 live acts.
+
Thematic podcast with Alex Pehlemann
Thematic Podcast with festival's volunteers
---
Cecilia reports for Radio Popolare
Arrival in Orléans one day prior to the beginning of the festival was an opportunity to take some time to explore the beautiful city with proper french vibes and a light, bright and positive atmosphere, where modern and medieval perfectly match together. Our host Salome brought us to visit "Le Cent Huit", where Chloe showed us around. A former chocolate factory from the 19th century now contains several aggregative associations for young people, but we've also visited L'Astrolabe which aims to make contemporary music accessible to everybody. More about interesting lectures, record digging, the visit of Radio Campus Orleans and the experience of the festival can be heard in the report.
Playlist of the most relevant artists seen performing:
Jealousy by Uzi Freyja
Wrong Direction by Burning Heads
Keep Me Out by Pab the Kid and James the Prophet 
Rinse and Repeat by Pantaloons
Shahrayar Blues by Jawhar Basti
Poussière by Laura Cahen
You Let My Tyres Down by Tropical Fuckstorm
+
Thematic podcast - English VS. European languages in music and culture administration  
Discussion with Nicolas Horber, general manager of Radio Campus France network, about English as the privileged language for all European and international projects.
---
Lena reports for Radio Corax
+
Thematic podcast with Alex Pehlemann
---
Radio Campus lectures & discussions
Lecture 1 - Alexander Pehleman speaks about tape circulation in GDR and today
Lecture2 - Piergiorgio
Round Table 1 - tackles the question of musical industries vs musical craft
Round Table 2 - tackles the theme of artists export in Europe
---
Cover photograph: Marko Miočić