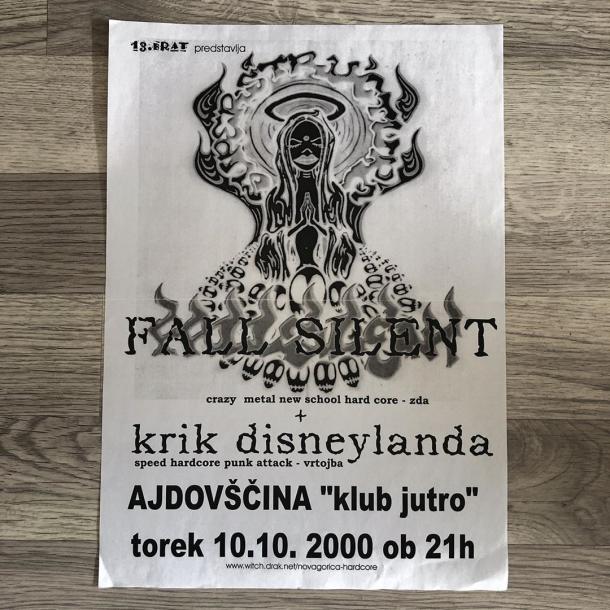 In this edition of the Indire radio broadcast we spotlight the shoegaze band Haiku Garden, also with a short interview. We play some music from the doom metal outfit Chains, some ambient melodies of the quartet Mart and some hardcore punk from the band Reach. We also talked with Marko Rusjan, the founder of a slovenian local fanzine 13. brat.
Vuk is the fifth album of Slovenian four peace band named Mart. The songs for the album were created in the past twelve years, and recorded in different locations, from living rooms some theatre's back stage. In Mart's tunes you can find details of experimentation, post rock, jazz and a whiff of ambient.
https://www.facebook.com/martmusicSLO/
https://martmusic.wordpress.com/
https://martmusic.bandcamp.com/
Haiku Garden is a band from Ljubljana, whose music is based on shoegaze and dreampop melodies. Theis first album Where if not now was released in 2018 by the local label KAPA Records. Last month they also published their second album Izštekani. Luka Flegar, the band's guitarist and vocalist told us more about the band and the music that they make.
https://www.facebook.com/HaikuGardenBand
https://kaparecords.com/artist/haiku-garden/
Reach is a hardcore punk band from the Prekmurje region of Slovenia. The band is – sonically speaking – leaning more to the metallic downbeat hardcore sound in the vein of Madball or Judge, but also with a strong influence of Trapped Under Ice, Terror, Expire, Bent Life, Bitter End, Cruel Hand. Their music is strong, heavy, yet incredibly dynamic with lyrics about friendship, unity, respect and personal struggles.
https://reach-hc.bandcamp.com/
https://www.facebook.com/reachhc
https://reachhc.bigcartel.com/
The drone/doom metal duo from Izola, Chains released their latest EP, Sonic Sabbath in january 2020 on the label On Parole Productions from Slovenia. It's 23 minutes of pure sonic doom in the vein of Electric Wizard, Dopethrone and with a hint of Place of Skulls. The EP is lo-fi, the riffs are heavy, the drums are primitive, and vocals sound like being high on some dangerous mixture of acid and mushrooms.
https://chains.bandcamp.com/
https://www.facebook.com/ChainsOfficial/
The cult Slovene webzine, 13. brat (The Thirteenth Brother) returns! It's one of the oldest Slovene zines about music, art and reflections of the times. We had a short chat with Marko Rusjan, the founder and the editor of this webzine. He is also known as the singer of the metallic/hardcore band Iamdisease and also of the legendary Slovenian hardcore outfit Man In The Shadow.
http://www.13brat.net/
https://www.facebook.com/13brat-webzine-243000099118808
PLAYLIST:
01. Mart - Drum'n' Pumld - 07:56 (album 3 Vuk; selfreleased/ZARŠ Records, 2020)
02. Haiku Garden - Drifter - 4:31 (album Izštekani Haiku Garden,; ZKP RTVS, 2020)
03. Haiku Garden - Mercury - 4:07 (album Izštekani Haiku Garden,; ZKP RTVS, 2020)
04. Reach – More Than Us (02:47) (EP More Than Us; selfreleased, 2019)
05. Reach – Drown (02:36) (EP More Than Us; selfreleased, 2019)
06. Chains – Devil (03:38) (album Sonic Sabbath; On Parole Productions, 2020)
07. Chains – Fireborn (04:06) album Sonic Sabbath; On Parole Productions, 2020)
Radio Študent (www.radiostudent.si), Slovenija
prepared by Marijana Kuljanac, Ivan Cepanec; sound mixing by Samo Pavlica Linch; announced by Marijana Kuljanac, Ivan Cepanec