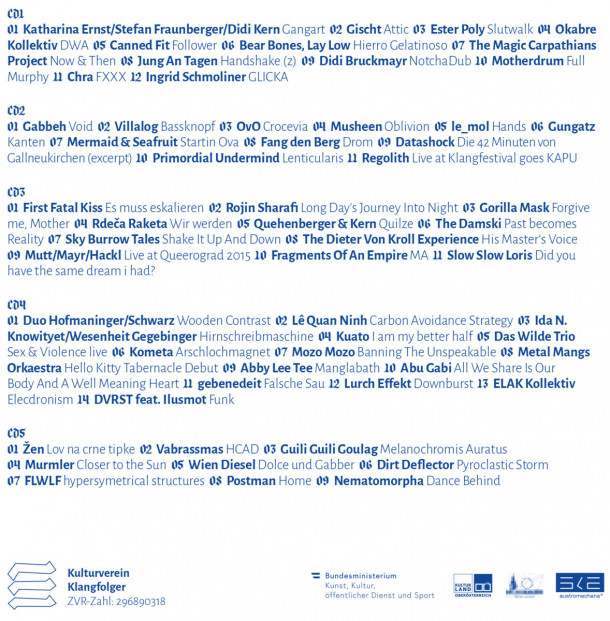 In this edition of Radio Muse, Indie-Re you will get to know a festival in Upper Austria, called "Klangfestival Gallneukirchen". Due to the Covid19-pandemic the festival couldn't take place in September 2020, so the initiative around the festival called "Klangfolger" developed a creative idea how to let it happen in a different way. They released a beautiful 5-CD compilation called "Klangfestival Remote" with recordings from 56 artists, who played in the last couple of years at the festival. 
I interviewed Thomas Auer, he is one of the many organizers of the festival and he told me about the idea behind their compilation project as well as the festival itself. 
Our conversation will be accompanied by music from the "Klangfestival Remote" compilation, so you will get to know in this radio show music from different Austrian bands and artists ranging from experimental electronic music, punkish songs, to instrumental pieces and more.
RADIO & COUNTRY
Orange 94.0 (http://o94.at), Vienna, Austria
Prepared, announced, engineered and mixed by Katrin Hauk
***
PLAYLIST:
Gorilla Mask – Forgive me, Mother (Brain Drain, Clean Feed, 2019)

Vabrassmas – HCAD (Klangfestival Remote, 2019)

Sky Burrow Tales - Shake It Up and Down (Klangfestival Remote 2020)

Gischt – Attic (Klangfestival Remote, 2020)

Musheen – Oblivion (Etat, Numavi Records, 2019)

Dirt Deflector – Pyroclastic Storm (Epileptic Media, 2016)

DVRST feat. Ilusmot – Funk (Klangfestival Remote, 2020)

Katharina Ernst / Stefan Fraunberger / Didi Kern – Gangart (Klangfestival Remote, 2015)

Ingrid Schmoliner – Glicka (Klangfestival Remote, 2020)
***
FEATURED ARTISTS, PRODUCERS, LABELS
ARTISTS:
Dirt Deflector
https://www.facebook.com/Dirt-Deflector
DVRST feat. Ilusmot
Katharina Ernst
Stefan Fraunberger
Gischt
https://soundcloud.com/gischtgischt
Gorilla Mask
https://gorillamaskmusic.bandcamp.com
Didi Kern
https://www.discogs.com/de/artist/84324-Ddkern
Musheen
https://www.facebook.com/Musheenband/
Ingrid Schmoliner
https://ingridschmoliner.klingt.org
Sky Burrow Tales
https://skyburrowtales.bandcamp.com
Vabrassmas
https://www.facebook.com/vabrassmas/
LABELS:
Clean Feed Records
Epileptic Media
https://epilepticmedia.bandcamp.com
Klangfestival / Klangfolger
Numavi Records